We are Israel! Oh, yes, we are! . . .
. . . and being a part of Israel means being associated with one of the twelve Israelite tribes. At Season of Our Joy, we want to illustrate that point by dividing the camp into twelve 'tribes', then grouping those tribes into 'camps' in somewhat the same order as they would be if camping around the Tabernacle in the wilderness. All the members of an immediate family will be in the same tribe. By placing you in tribes and camps we hope to promote fun, fellowship, and responsibility by having each camp participate in various activities and responsibilities during the festival.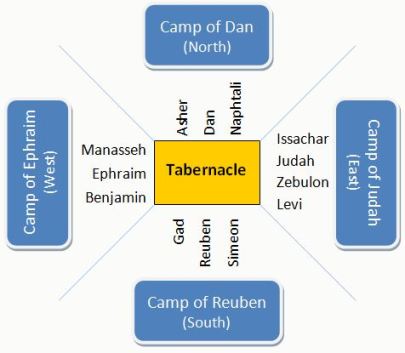 As part of a Tribe and Camp you will have the opportunity to represent and carry the standard of your tribe during the initial progression into the sanctuary. You can also participate in "Tribal Games" - an afternoon of fun and games for the whole family as your tribe competes against other tribes in activities such as GaGa Ball, Kickball, 9 Square and Stump Tug-of-War. If you are not into athletic games, you can participate in various board games, or just sit on the sideline and cheer your tribe to victory!
But life can't be all fun and games . . . so we're asking the members of each tribe to contribute part of their time in service for a greater cause . . . keeping the camp cleaned up and helping with meals. You might say that we're asking you to help us with the 'chores'. On a rotating basis, each tribe (or camp) will be responsible for general camp pick-up, group meal (pot-luck meal) preparation and clean-up, bathroom duties (pick up items for Lost & Found, reporting of any problems to Staff), Auditorium Setup, and Evening Special events. Many hands make light work!!
Each tribe is encouraged to display tribal honor by decorating their camp area in relationship to their tribal colors and symbols. CLICK HERE for a chart of recommended colors, stones, and symbols for each tribe.
Camp Assignments . . .
There are three daily 'chores' as well as four Evening Events that we are calling on the tribal 'Camps' to take care of. They are:

Setting up the Conference Center - before each day's praise/worship/speaking session (Main Session) and then straitening up the Conference Center afterwards. It usually involves only having to straighten the chairs and picking up trash and coffee cups, and checking the bathrooms. Occasionally you (the Tribal Camp) may have to clean up a spill. It the event there is a spill during the service, we ask that you assist in cleaning it up as well. You will also want to keep the floor dry in the event of rain being tracked into the building. Note that on the first and last day of the festival there are two Main Sessions, and on the Sabbath there is a Main Session and a Torah Study. Your services will be needed at all of those sessions. Please arrive about 30 minutes prior to the beginning of the Main Session to perform this service. It should only take about 10 minutes.

Camp / Bathroom Clean-up - sometime in the early afternoon, take a walk throughout the entire camp and pick up any trash you might find. In addition, check the bathrooms (both at the RV camping area and the Conference Center) for items that have lost their owner and take them to Lost and Found.

Group Meal Preparation - on the days there is a pot luck and on the morning of the Pancake Breakfast assist in setting up for, and cleaning up after the meal. Some of these meals may be in conjunction with an evening activity. Please arrive 45 minutes prior to the event to offer your services.

Evening Events - on the evenings when there is a special event, your assistance will be needed in setting up props or equipment for that event. This may include setting up tables and chairs for the activity. It would also include putting everything away after the event. Please arrive about 45 minutes prior to the event to offer your services.
---
Tribe Assignments . . .
North Camp = tribes of Naphtali, Asher, Dan
South Camp = tribes of Reuben, Simeon, Gad
East Camp = tribes of Zebulon, Issachar, Judah, and Levi
West Camp = tribes of Ephraim, Manesseh, Benjamin
Camp Assignments . . .
Day
Dining
General Camp/Bathroom Cleanup
Auditorium Setup
Evening Activity
Sunday
Oct. 13

North
East
West
South
Opening Session
Monday
Oct. 14

South
West
East
Tuesday
Oct. 15

East
North
South
West
Hamburger Social
Wednesday
Oct. 16

West
East
North
Thursday
Oct. 17

South
West
Friday
Oct. 18

West
North
South
East
Water Pouring
Sabbath
Oct. 19

South
West
East
North
He-bay Auction / Fun Show
Sunday
Oct. 20

East
South
North
Monday
Oct. 21

West
East
South